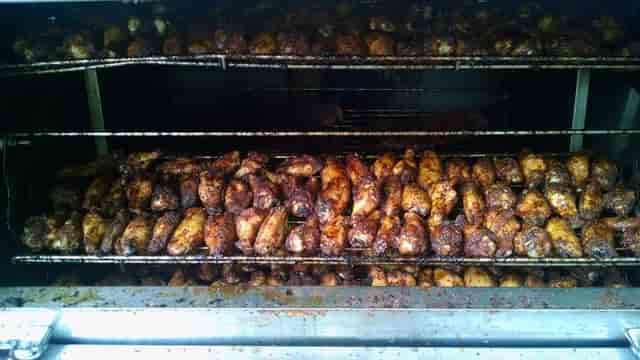 Catering
Become a VIP
Receive updates on special events, new menu items, menu reviews, and more!
Catering Menu
Sides
The below pricing is for pick-up only. These options do not include plates, utensils, napkins or cutlery kits.
Party Platters
Fresh Sandwich Tray
Choose either club sandwich, French bread style, or garlic herb wrap. A delicious assortment of sliced turkey, roast beef, ham, tuna salad, or chicken salad. Topped with lettuce, tomato, cheese & mayonnaise. Club sandwiches choose white, wheat or rye bread.
Large (serves 16-20)
$100
Regular (serves 8-10)
$70
Buffet Menu
(On or Off Premise - 15 person minimum). All meals include corn bread or dinner rolls, paper plates, flatware & serving utensils. All prices are per guest. 15% Service fee will be added for in-house bookings and off premise events requiring buffet/setup services. 8% sales tax not included in pricing. *Add $1.50/guest for each additional side. *Add $1/guest for ribs, brisket or roast beef. (25% deposit due at booking. Must have order finalized one week prior.) *Add $2/guest for In-House Non-Alcoholic Beverage Services (Coffee, Soda, Tea).
Entrees By The Pan
The below pricing is for pick-up only. These options do not include plates, utensils, napkins or cutlery kits. Wire chafing dishes and sterno packages are available at $15 per set. (Includes wire chafing rack, water pan and two 2-hour sterno fuels. These are yours to keep.) Dinner rolls, sandwich rolls and slider rolls are also available for purchase. Please ask for pricing. Plates, utensils, cutlery kits and napkins are available for purchase at $1 per person.
Catering
Bring that delicious Smokin' Eagle flavor to your next event! Our full catering menu brings you the best in Slow Smoked BBQ, Homemade Italian, American Cuisine and soooo much more!

Call us for:

-Office Parties
-Holiday Feasts
-Tailgate Parties
-Birthdays
-Corporate Functions
-Weddings/Rehearsals
-Graduations
-Anniversaries
-FOR ANY OCCASION

We proudly offer a complete catering service with a variety of selections that would accommodate any occasion regardless of size. Our catering items can be prepared and served for enjoyment in the restaurant or prepared as take-out for enjoyment in your own back yard, delivery service and FULL Offsite Catering service!
We offer side dishes, salads, desserts, buffet selections, sandwich trays, veggie-cheese platters, cheese-cracker-pepperoni platters, chicken winds, deluxe deli trays or you can order home-made entrees individually by the pan. Ask us about Charcoal Steak Dinners, Pig Roasts, Chicken BBQ, Holiday Specials & Clam Bakes! If there is something that is not on the menu and you want it, we will get it!

"Thank you and we look forward to serving all your catering needs!"

- Marc & Jon Marcello
Catering Inquiry
Contact us for catering information and we will get back to you soon.